What Some Readers Have To Say
"I have enjoyed your book Find A Quiet Corner. I keep it by my reading chair and pick it up to remind myself of the fertility of silence and the blessed center of stillness. Thanks." –Lillie Robertson; New York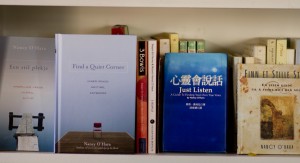 "I loved your book. I made a family quiet corner that is beautiful….My daughter Nora loves that it's 'ours' and not just mine and she sat for four minutes last night." –Lesley Logan; London
"Thank you for writing Find A Quiet Corner….Your sharing of your journey means very much to me. That little book holds much more wisdom than all the larger ones which surrounded it. Very well written and a simple but profound message!" –Virginia Barnette; Tennessee
"The book had a very calming and reassuring effect on both of us. We will definitely share the title with others – there are so many people who need a guide to peace." –Kathy and Peter McNeely; Virginia
"Thanks for writing and sharing Find A Quiet Corner with others. I can't adequately describe the immediate impact it had on me when I first read it (I think I have re-read each passage maybe 30 times.) your words and gentle instructions have helped me in innumerable ways….Your book has become my bible. I study it and it has helped me through such pain and confusion as I've never known." –Barbara Hurd; Connecticut
"As I lead my next group
[of women recovering from divorce], I will be sharing readings from your book with them. Thank you so much for sharing your wisdom in this book." –Rosalie Goll; Arizona
"I absolutely love your book and am slowly applying the principles to my life." –Imelda Kenny; Massachusetts
"Thank you for your book Find A Quiet Corner. I've had a painful life – and now recently another upset. I've noticed wanting to just hone in on breathing, and yesterday afternoon gently read through – and breathed through your book. It helped me then and again this morning…thank you for something so readable, doable, and life- and self-affirming." –Victoria Miller; Massachusetts
"I've enjoyed your book "Serenity in Motion" very much and have learned a lot from it. There're many wonderful wisdoms in it that could guide me every moment in my life." –Xin Y.
"I have just completed "Serenity in Motion" and I wish to "Thank You" I hope to carry and reread it many times in the coming years. I will look for your new edition of "Find a Quiet Corner". Again "Thank You" for the lessons in your book. I am 65 and learned a lot." –Tom Stevens
"I am currently reading the German translation of one of your books "Das Wunder der Gelassenheit" – it has been most helpful to me, and continues to be so. Thank you for the book!" –Arnis Vilks
"For a few days I bought your book translated in German called: "Das Wunder der Gelassenheit". I've read a few titles and I know, that this way could be mine to find the centre in myself." –Hatun Tolun
"Dear Nancy O'Hara, yesterday I found your book "serenity in motion" I enjoy it very much, because some weeks before I just started meditating every morning; what a nice coincidence. Thanks a lot." –greetings from Germany Eva von der dunk
"I just read your book Serenity in Motion. It was wonderful. I am trying all the exercises as well… Your book is a big help to me so I don't end up ruining this new wonderful relationship. I plan to purchase some of your other books as well." –Suzanne T. Vigliotti
"Im a German and my english is not very good… I have bought your book "Das Wunder der Gelassenheit" and I have started reading the first chapters. Very interesting and very helpfull. Congratulations." –Best regards Uwe (in Germany)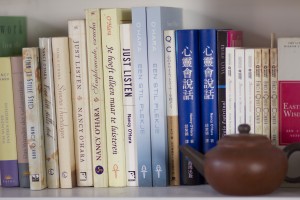 "I just read my first Nancy O'Hara book, Serenity in Motion. It was wonderful and I know it will be a resource for me when I encounter difficulties." –Paula Yardeni
"Dear Nancy I have just finished your book "Das Wunder der Gelassenheit" the German translation of "Serenity in motion". It is a great book and I really can recommend to all people who are looking for a better quality of live. It shows the richness of the Buddhist's world in a very understandable way." –Heinz Meyerhans from Liechtenstein
"I want you to know that your beautiful book 'find a quiet corner' continues to breathe here in Cleveland. Upon my recommendation, a friend purchased a copy today. She is a teacher for 'last resort' teenagers. In other words, she teaches kids who are not accepted at other high schools due to disciplinary problems. (often severe problems: volatile outbursts, pulling knives upon others, etc.) She is trying to teach them calmness, quietness, stillness. In order to get support from coworkers, she needs to support her belief that quietness will produce positive results. So, I strongly recommended your book." –Myobu
"Nancy O'Hara, I've been trying to locate you ever since I read your wonderful book, "Find A Quiet Corner", It has taught me much. I've have recommended to all my friends in our meditation group." –Metta, Paul
"Recently I've needed to read something soothing. As I searched my home library I found the answer in Find a Quiet Corner. Its strength is in its simplicity. Thank you very much for writing it." –Donna Jones
"Das Wunder der Gelassenheit (Serenity in Motion) is really a great book. I read a lot of books from Thich Nhat Hanh, but I love your simple, but sincere way! After long years on the wrong way …I am living now clean for the last two years, ..I discovered your book two weeks ago, thanks from Munich!" –Niko
"…I enjoyed Find A Quiet Corner. It ought to be standard reading in executive training and in high schools. Great job!…Keep up the good work!" –Vince Mattaliano; New Jersey
"I just finished one of Nancy's books and would LOVE to make a weekend (retreat) to soak up more of her invaluable advice. Her book, Work from the Inside Out, has changed me. Thank you." –Paddy H.
"I rarely ever contact an author of any books I read, but I just started "Work From The Inside Out." I'm really attracted to your style of writing. This book actually addresses my issues related to work so simply. I'm eager to finish the work and see where I am when I finish. I've never studied Buddhism although I am open to it. I feel very comfortable with the flavor of it through your work. Thank you for sharing your insights." –Paula Haynes
"I am writing to tell you how much I enjoyed reading Zen By The Brush. The poems are all special, but I especially felt warm toward your "Live in this moment." As a "senior" I certainly connected to that – my life expressed beautifully by you." –Nancy G
"Thank you for "Just Listen". It is a wonderful gift. I read it once & I am going to read it maybe five six times more. It is helping me a lot." –Glenn
"Thank you for your wonderful book, Just Listen – it has inspired me so much, and I can turn to it for gentle wisdom, and reminders of simple truth." –Cathy