Testimonials from the Workplace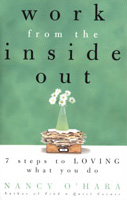 "SAMU works at work! Recently Nancy conducted workshops for my creative team and Hanesink. The workshops were specially crafted to work within our corporate environment. Many of the group had never meditated. Nancy also included other exercises that assisted the participants by increasing self-awareness, reducing stress and building tools to take back to the busy workday.
Nancy's strong yet gentle leadership provided a safe and explorative environment. This was a unique experience for the entire team. These workshops contributed to the culture of our workplace in an extremely positive way – nurturing the flow of rich thinking and inspiring methods of relief in a stressful work day. I recommend Nancy for anyone inspired to tackle stress and nurture curiosity from the inside out!"
Carole Bolger, Creative Director, Hanesink ImageLAB, Hanesbrands, Inc.
"As the leader of VNSNY Hospice Care, one of my key responsibilities is the care and support of our staff of nurses, social workers, physicians, chaplains, bereavement counselors and our office staff. They are in daily and intimate contact with persons at the end of life and their family members. At one of our annual all day, all staff retreats, Nancy taught the Hospice staff methods of stress reduction and self-care, and how to build a "consumer friendly" meditation into their day. Many of our staff were novices to meditation, a little uncomfortable, resistant and wary of the "woo-woo" impression they had of meditation. However, after experiencing the calm and centering results, they began to add to their daily routine the simple sitting and breathing exercises that Nancy taught them.
Nancy was sensitive and effective with a large and diverse staff. I recommend her highly, especially to health care organizations, whose staff is called to heal and care for others but often neglect to take time to care for themselves."
Jeanne Dennis, Senior Vice President and Executive Director, VNSNY Hospice and Palliative Care
Some feedback from participants in corporate workshops (all feedback given anonymously):
"The program should be on-going in our company. Because it settles individuals and brings them to a higher level of focus and enhances the energy level, which of course is a benefit to the individual and the company."
"I would love to continue this program!"
"Please make it on-going. It was very helpful and informative. Saw changes in just a few weeks."
"Teaches and exposes one to sit quietly and listen to yourself- over time."
"Found the exercises useful and would carry them over into everyday living."
What some participants found most useful:
Sitting, because it allowed me time to spend with myself.
The breathing exercise. It helped me realize that I could have peace and freedom of thought during that time and I could continue to do so every day.
Breathing, sitting still – felt good, body was relaxed.
The listening exercise – it afforded an opportunity to listen and hear – without distractions – to a colleague.
Writing down your challenges – which made you really think about where you want to be.
I enjoy most of Nancy's exercises and find them to be quite effective. In particular I love her writing exercise.
Listening exercise – it proved difficult, but the hardest exercises are usually the ones you need the most.
Listening to someone else – I realized that I am not the only one with those thoughts. Also the writing down of thoughts.
Communication and listening to others.
The one where we sit elbow to elbow and spoke/listened. It was easier to talk about things when I didn't have to look at the listener.
The three-minute talking/listening exercise. I really bonded with the person I was paired with – and this is someone I work with daily, but don't know well. I learned that the things we worry about are really similar and felt less alone in the things I worry about.
Speaking for 3 minutes to a partner, because it felt very therapeutic to be heard instead of bottling up thoughts.
Listening exercise with random partner. Sitting in silence.
I like the writing exercise – it feels good to 'vocalize' – for lack of a better word, my feelings especially since I didn't know we were going to read it but it was freeing.
Sitting silently – it's a technique that can work in all sorts of situations, and it's simple and non-threatening.
When you talk to someone and then listen to them, you find that you truly listen to what they're saying.
The writing schedule. Putting my thoughts on paper was very liberating and insightful.
The writing exercise – then the total surprise of reading it to my coworker. It took off the masks we all wear at work.
3 minute talk and listening exercise.
Meditation experiments.
Importance of staying in the moment.
Speaking for 3 minutes, one person at a time. Each person was really heard and allowed to speak.
Thinking about being in the moment – not being anywhere else – and that if we didn't have change life would be pretty boring.
Writing – stream of consciousness because it reinforced some issues that either need to resolve or get over.
The listening exercise – it helped me understand and feel free, it brought me closer to my team member.
Breathing and listening, which helps make you understand what you're feeling and thinking.