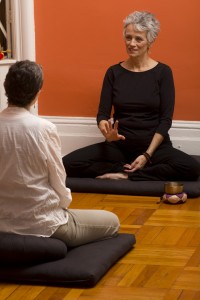 Mindful Life Coaching
Get ready to live in harmony with the changing circumstances of your life without strain or compulsion.
How it Works
Mindful Life Coaching is a dynamic, one-on-one interactive process that will give you a set of tools to help you live with the internal and external burdens of your life in this often stressful modern world.
If you're already on a path of self-discovery you can use this process to knit together all the pieces of your life into one harmonious whole. If this is your first venture into self-examination, we'll take it as slow as you wish.
Basically, you call the shots. How happy do you want to be? How deep do you want to go? What dreams do you want to realize? What issues do you need help with?
We'll begin with a one hour session to see if there is a fit. Then you will make a vow to yourself and a commitment to this process by agreeing to meet once a week for at least three to five sessions.
Together we will design a structure that will address your needs and work for you.
With a little guidance from a coach who has been there before you, you can achieve success in:
overcoming mental, physical, and spiritual stress
achieving optimum physical health
gaining job satisfaction
improving relationships
balancing finances
handling anxiety
becoming more assertive and decisive
effectively dealing with clutter
conquering creative blocks
defeating chemical-dependencies
regulating unmanageable emotions
controlling racing thoughts
realizing your goals
Buddha's last words to his students were "Be a lamp unto yourself." By this he meant don't look to someone else for your truth. Still, he was a teacher who offered spiritual guidance to his followers so that they could more easily know themselves.
Although we cannot rely on others in the end, it is often imperative that we have a teacher or guide or coach to help us find our way toward trusting ourselves.
Call 212-866-0730 or email: info@nancyohara.com today to make an appointment, learn about my fees, or just ask a question.