It's also my husband's favorite, but I've never found a recipe I love. They're usually too sweet or too dry or too something else. So I combed through some recipes and came up with my own for Michael's 60th birthday a few years ago. With some help from an artist friend, we decorated it to look like a bicycle.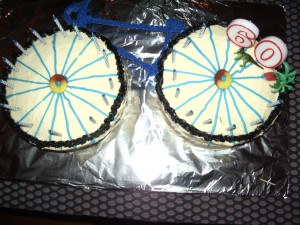 Michael has a passion for anything with spokes that one can ride, so combining the two was a perfect gift. I wasn't sure how it would taste, since it was the first time making it, but at least it looked fabulous and I knew that would be good enough.
It was delicious! And it comes out perfect every time I make it. Here's the wabi-sabi version with some artwork by Seigan, my Zen monk friend.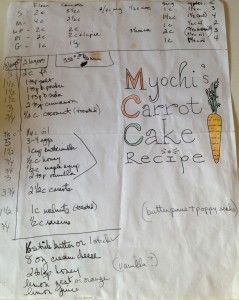 And here's the  Carrot Cake Recipe so you can read it. If you love carrot cake you'll love this. Add or subtract ingredients to suit your taste and have some fun with it.
It doesn't take long to whip up, so you can make it and bake it in an hour's time. Don't forget the poppy seeds on the bottom; they give it an extra special yummy touch. I know you're going to love this cake. Enjoy!