…continued from Work Can Be a Drug
Money. Can't live with it. Can't live without it. Surely we all know what the can't-live-without-it part means. We need money to survive, to house, feed and clothe ourselves and our families. We also need it to supplement the basics and add more comfort and pleasure to our daily lives. Nothing wrong with this. This is not a bad thing. Yet when this need turns into an insatiable craving, we move into the can't-live-with-it side of the picture, and no matter how much money we have, it isn't enough. Then the destructive cycle of greed, anger and folly is engaged and money becomes our god, our obsession, our sole goal. We grasp for it, we hoard it, we spend it carelessly or we even turn our backs on it, all in a mad, vain attempt to secure our happiness. The truth in the saying "Money is the root of all evil" certainly stems from this reckless and selfish abandon that we employ in the race to the procurement of or freedom from money.
Whenever we do anything solely for the money, the price we end up paying is worth more than whatever money we make. As you will come to see (or as you may already know from experience) when our work becomes an activity that is just about getting paid, then the work loses meaning and we are no longer gratified—even the money, the reason we took on the work in the first place, doesn't satisfy. Similarly, when we are given large sums of money for nothing, we also pay a great toll. It loses its value, and we lose our respect for it and for ourselves in the process.
Money Can Sometimes Be a Burden
Evelyn was born into a family of great wealth. When she left the family home to be on her own, she never had to worry about money. Each month she was given a hefty income, and if she ever needed or wanted more, it was there. While this arrangement seems ideal and greatly appeals to those of us who have always had to work for a living, it can have its own burdens. And for many years it was an albatross around Evelyn's self-worth.
Evelyn became a dilettante, dabbling in many different arenas and settling in none. This is not necessarily a terrible waste of time, but in Evelyn's case the satisfaction of a job well done rarely came. She got paid for most of her work, yet she was never highly motivated, and a deep inner sense of failure plagued her. For a few years Evelyn even decided to support herself exclusively with the money she made. She didn't give back her family's money; she simply let it sit in the bank. But because Evelyn never gave herself to her work (it was always about the money), she eventually got tired of what she was doing and moved on. Compelled to dip back into her trust fund, she nursed a huge resentment toward her family and the money. She believed that if the money hadn't been there, she would have been forced to do something with her life. She was spinning her wheels, neither moving along nor stopping anywhere long enough to gain some self-respect.
When it was suggested to Evelyn that she could easily relieve her money misery by giving it all away, she was taken aback. This solution had never occurred to her, but upon hearing it from someone else, she was instantly awakened to the folly of her ways. Never before had she entertained the real possibility of actually not having this money. She took it for granted and knew it would always be there for her and her children (when she had them) and their children and on and on. When Evelyn thought through the idea of emptying her bank accounts, she confronted her own greed and lack of gratitude. After so many years of self-hatred she saw how the money had nothing to do with the way she felt about herself and she knew that even without the money that wouldn't change. It was then that she decided to make her pursuit of work not be about money. She also realized that the money she had needn't be such a burden. Understanding what a gift it really was, she resolved to use it to fulfill her wish to be useful in the world.
So Evelyn went back to school and is now happily involved in a private therapeutic practice. Her own personal struggles help her to be a truly empathic healer. She continues, of course, to deal with the curve balls that life throws at her, but the issue of money vis-à-vis work ceases to be a disruptive force. Today Evelyn appreciates more than ever the gifts in her life, including the inherited money. She no longer takes these gifts for granted, particularly since the arrival of her two beautiful children. The work of being a good parent and helping others outside the family has completely quelled her inner yearning for meaning. The daily tasks of caring for her family and nurturing her nascent practice supply her with all the meaning she needs.
Her work is her spiritual practice and her spiritual practice is her work.
"Yeah, but if I had her money, my life would be so much easier and I'd be able to do just exactly what I want to do without worrying about paying the bills." If you think this or if you've ever dreamt of winning the lottery, sure that either would ease your worries, it's time to think again and look at why your mind goes there in the first place.
To be continued…
from Work From the Inside Out – 7 Steps to Loving What You Do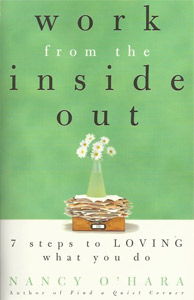 Save