How I wish Goodreads had been around back in March 1994 when my book group read and discussed our first book over dinner. I might have a more extensive account of the 80 books we've read so far, and the countless books I've read on my own. Or not.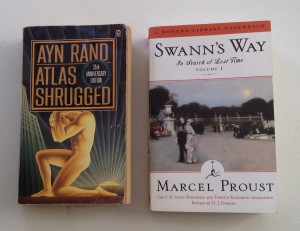 We were all six working at Simon & Schuster and we all loved books, which is why we were in the publishing world—it was a different time back then. Not one of us still works there and only two members are still employed in that business. Other than our maiden book choice, Shipping News by Annie Proulx, we all agreed that S&S books were to be excluded from our discussions—we read too many of them as it was and wanted to venture further afield.
Aside from one member leaving the group in 1999 and another taking his place, the group has remained intact over these 18 years, and except for a few last minute emergencies no one has ever missed a session.
When I was slogging my way through the 1,074 pages of Atlas Shrugged by Ayn Rand, I rued the pact we'd made to show up having read the entire book—we couldn't leave any part of the book unread no matter how much we hated it.
Hands down Rand's book was the most painful reading experience of my life. Oddly enough I am glad to have read it if only to now hold such strong feelings about it. Many of us who worked in the business held many strong opinions about many books we never read, but it was all bullcrit. My judgment of Rand is justified and well earned.
There were a few other books I didn't enjoy reading and some that were just dreadful, but not one of them is seared into my memory of disdain as deeply as Ms. Rand's tome. Much like a conversation about politics or religion, the books that were the most hated led to the liveliest and most heated discussions.
Proust falls into the category of most-hated-author for some members of our group. But not for me. Proust's language is slow, easy and rhythmic: I love to immerse myself and luxuriate in his sentences. Juxtaposed to this, Rand's egotism shines through her every word and just makes me angry.
We read the first two volumes of Proust's In Search of Lost Time (or as some may remember it: Remembrance of Things Past) and whenever I want to rile up the group I simply need to mention that my next selection (we take turn choosing titles) will be volume three.
I wish I'd taken more notes on every book I ever read so that my memory of the reading experience could be triggered and refreshed by my review, much in the way Proust's memory was stimulated by sounds and tastes and petite madeleines soaked in tea.
She sent for one of those squat, plump little cakes called "petite madeleines," which look as though they had been moulded in the fluted valve of a scallop shell. And soon, mechanically, dispirited after a dreary day with the prospect of a depressing morrow, I raised to my lips a spoonful of the tea in which I had soaked a morsel of the cake. No sooner had the warm liquid mixed with the crumbs touched my palate than a shiver ran through me and I stopped, intent upon the extraordinary thing that was happening to me. An exquisite pleasure had invaded my senses, something isolated, detached, with no suggestion of its origin. And at once the vicissitudes of life had become indifferent to me, its disasters innocuous, its brevity illusory—this new sensation having had the effect, which love has, of filling me with a precious essence; or rather this essence was not in me, it was me. I had ceased now to feel mediocre, contingent, mortal. Whence could it have come to me, this all-powerful joy? I sensed that it was connected with the taste of the tea and the cake, but that it infinitely transcended those savours, could not, indeed, be of the same nature. Where did it come from? What did it mean? How could I seize and apprehend it?
Mmmmm… delicious! Non?
On second thought, much as I love modern aids to memory such as Google, Ebook readers, and Goodreads reviews, I love even more taking the time to flip through a book I read years ago to help jog my memory and find my opinion. As I just did with this passage. (In transcribing the above excerpt I discovered that the thick and heavy Atlas Shrugged was good for something: to hold open Proust's darling book as I typed.)
Both my opinions of particular writers and my reading tastes have changed over time. I have a vague memory of reading The Fountainhead in my 20s and holding a more positive opinion of Rand—but I was young and very self-centered back then, much like Howard Roark, so it makes sense.
As I read the last line of Atlas Shrugged: "He raised his hand and over the desolate earth he traced in space the sign of the dollar." I have a visceral reaction to it and recall in my body the unpleasant reading experience it was in 1997 and have no desire to read more.
Yet I can open up Proust to any page, read a passage, and immediately enter Marcel's world and re-experience my pleasure and awe. Here are his most luscious last two sentences of volume one, Swann's Way:
The places we have known do not belong only to the world of space on which we map them for our own convenience. They were only a thin slice, held between the contiguous impressions that composed our life at that time; the memory of a particular image is but regret for a particular moment; and houses, roads, avenues are as fugitive, alas, as the years.
I think the last sentence of a book can tell us more about the book than the first, and volumes about the writer. If I had read neither Rand nor Proust before and was given the last sentence of these two books I think Proust would win, hands down.
In less than two years, on March 11, 2014, our book group will celebrate 20 years together. I think I'll suggest a trip to Paris and reading the third volume of Proust. Maybe the Proust haters will find something to love in his writing while visiting the city of lights.