I've kissed a lot of frogs in my life and finding the prince seemed an impossible task. And, indeed, it is.
Before my current marriage, I always referred to love relationships as the "final frontier." I had no clue how to navigate them long-term. The whole thing was mysterious, baffling and filled with land mines. And it was never my fault when things went sour! A dozen years ago at the age of 50 I had resigned myself to getting old alone. Until I met Michael and made a decision that this time it would work. I finally became more willing to look at my side of things and not just cast blame.
It hasn't been easy. And love is not all you need, though it can't be done without it.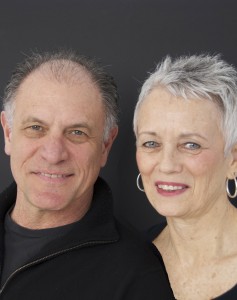 Together, Michael and I learned how to avoid the land mines, how to communicate in loving and not hurtful ways, how to stand our ground when necessary and bend when every cell in our being tells us not to. We have been together for almost 12 years now and know that we are in it for life: one moment, one day, one experience at a time. We have more to learn and we view this thing called love as an adventure.
We want to share what we've learned with others so we've created an "Imperfect Partners" workshop to do just that. We hope you'll join us if you are in a committed relationship and want to learn how to make it better, stronger and long lasting. And please pass this along to the couples you know.
There is always more to learn and ways to grow and love to experience.
"Nancy and Michael facilitated an incredible couples intensive for us. And I do mean intensive. The work they did with us was key to helping build stronger lines of communication, commitment and caring. Personally the work that was done informed my next indicated step in this Odyssey called Intimacy. I would highly recommend their workshop for anyone that's serious about deepening this." Pete D.
"I felt empowered by the couples workshop held by Nancy and Michael. I came with lots of trepidation, as my partner and I were having conflict. I felt anxious and scared. Nancy kept insisting we be honest in all the different exercises, and I did. I explored some scary and dark places that afternoon, but by the end of the workshop I was surprised that much of the heaviness had lifted. I felt more myself, as though I owned my life more, and was less dependent on whether my partner was sad/happy with me. This felt very liberating, and I hope to continue this work with Nancy and Michael. It felt like jumping off a cliff, but having witnesses to simply honor the experience. Thank you Nancy and Michael!"
Cathy F.
"My partner and I have been together for 12 years and after 2 kids and multiple challenges, we thought our relationship needs support to thrive. We found that and much more with Nancy and Michael. Their incredible patience, wisdom, and practical set of gifts for our relationship left us feeling nurtured and supported after the workshop. We painted our apartment, had more connected sex, and are continuing to communicate in a more clear, and fun way. Did they do it for us? I wouldn't say so. Could we have it done it without them? I don't think so. Thank you, Nancy and Michael!"
Eva