I've had them before, but not so deep and strong as this time. You'd think I'd be glad to be back to my "normal" life given what happened. Maybe it's just shock and not depression.
First, there was the death, cremation and burial of my father-in-law. After more than 10 years suffering from dementia, his passing was not shocking and was viewed by some as a blessing. But it was a poignant reminder of his wife's sudden death the previous year from a head on collision, calling back the grief and wrenching loss of that time. Then there was an ugly and painful-to-witness interaction between my husband and his brother. Tension between family members during such times is common, but knowing that didn't make it easier.
And then there was the hurricane. We were in Vermont.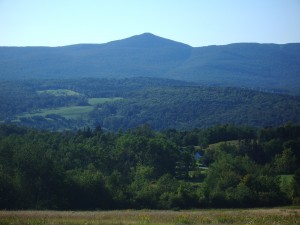 Sunday morning when the storm hit Vermont, after a night of heavy rain, we decided to go out to treat ourselves to breakfast at Dot's, our favorite place for that in Wilmington, just a few miles down the road. It seemed that Hurricane Irene was going to just drop buckets of water on the state and pass on by. No big deal.
The Deerfield River runs alongside Rte 100 and is usually such a sleepy, shallow river I hardly take special note of it as it is simply one part of the gorgeous landscape. There is so much beauty on every road in Vermont that you can begin to take it for granted and not remark on it each time you pass by.
A couple miles down the road the wind picked up and the rain pelted down with evermore fury. The river was beginning to lap up onto the road. A tree had fallen, blocking our path.
We drove around the tree and continued our journey – we were hungry. We figured Vermont could handle a little bad weather and so could we.
Around the next curve the river was spilling onto the middle of the road. It had become thick and raging.
I had never realized how near the road the river was. Nature on both sides of the two-lane road was now closing in. Even if we were able to make it to town, we weren't sure we'd be able to come back the same way. It finally struck us that being out at all was dangerous. We turned around.
We lost power soon after returning home and spent a few peaceful hours cut off from the world. We meditated, we read, we made love. All things one is meant to do on vacation. It was lovely. The sound of the rain mixed with the smell of incense, surrounded by nature, reminded me of the mountain monastery in the Catskill Mountains I once called my spiritual home. It was a bittersweet memory. (More on the bitter aspect of that in another post.)
Later in the day the rain let up and we ventured out. Again, we were hungry and thought we'd try our favorite roadside stand, Wahoo's Eatery. What we found was devastating.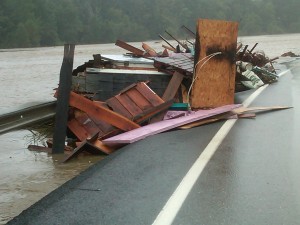 Roads impassable – we couldn't get near Wilmington Center – fields flooded, trees knocked down, waterfalls on the side of roads where there had been a wooded hill. Cars overturned, structures ripped apart and thrown to the opposite side of the road.
The river was now higher, wider, and furious.
Via a back road on higher ground, we were able to get close to the back of Dot's (our breakfast destination just a few hours before). It was still standing. That seemed good news as it sits right on the river and next to the bridge that spans the main street. Many people were congregated. Someone told us that the deck on his house had been swept away by the river. The rain had stopped.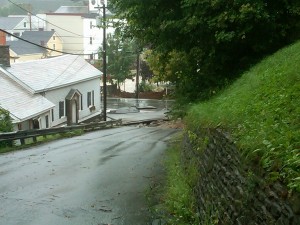 We had no idea the extent of the damage or how bad it was elsewhere – we couldn't get very far from home – until the power came back on later that day and we watched the news. Over the next few days we learned more about the local tragedies.
Hundreds of roads washed out, businesses and homes destroyed. The water swept away a 20-year-old woman who had been standing on the bank of the river with her boyfriend. Friends and neighbors suffered from minor flooding to complete loss. An art gallery in town was ripped off its foundation and floated down river ending up in Lake Whitingham like most of the other debris up river. I can't imagine how long it will take to clean it out. It was heartbreaking to see it. We were so grateful to have had our first kayak trip ever on that lake just the Friday before.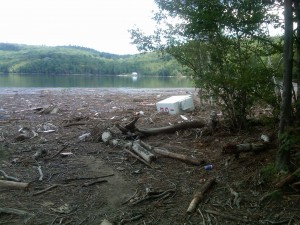 The community spirit after the storm was inspiring. So many people pitched in to clean up, clean out, feed and clothe the homeless. I witnessed no one feeling sorry for their losses; they all seemed grateful to have survived.
And here I sit in a blue mood after three weeks in Vermont, forgetting how lucky I am to be able to spend three weeks in the country. So I've taken my own advice: sit, write about it, don't resist. If you're blue, be blue. It'll pass. If you're angry, be angry. It'll pass. If you're happy, be happy. It'll pass.
I feel my mood shifting as I write this. By the time it posts, my mood will be transformed, I'm sure of it.
Later that day: I went for a bike ride. I took care of some business. I prepared for a class I will be teaching this evening. The blues are gone. I'm happy to be back in New York. I miss Vermont.