The smell of cotton candy brings to mind amusement parks and the thrill of being a child. The smell of wet, fallen leaves brings the sad memory of summer's end and the happy one for some of us of school's beginning. For most of us, our sense of smell is rather strong and peculiar to our individual tastes and personalities. Unpleasant smells may dampen our mood, while pleasant ones bolster it.
When I set aside time to spend in my corner, I first light some incense. The smell signifies to me that my quiet time has begun. I'm less likely to allow distractions. I determine how much incense will burn in the time I've allotted myself, freeing me to concentrate on my quiet-corner activity without consulting my watch. I make a ritual of lighting incense every time I visit my corner, and the smell of it has an immediate calming effect. Each time I smell incense, I am reminded of my quiet corner. This smell has been added to the others in my sense memory, and it always invokes quietude.
Buy an incense burner or simply burn your incense in a favorite cup or small bowl. When you begin, you will need some pebbles or some salt to stand the incense upright. As ashes accumulate, use them to stick the incense into, and after each session in your quiet corner, smooth out the ashes so that they're neat and ready for your next visit.
Beginning and ending my quiet-corner time with the incense ritual gives a frame to that time and gives me an activity that expresses my commitment to spending time with myself.
from Find a Quiet Corner – A Simple Guide to Self-Peace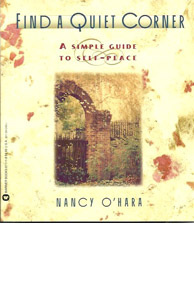 (The following is not mine – it came with some Japanese incense that I love.)
Koh (Incense)
The Ten Virtues of Incense Burning
1)   Incense burning opens the mind to divinity.
2)   Incense burning purifies the mind.
3)   Incense burning divests the mind of worldly impurities.
4)   Incense burning wakes up the mind.
5)   Incense burning encourages the mind in solitude.
6)   Incense burning affords the mind leisure when it is busy.
7)   One cannot burn too much incense.
8)   Yet, even a little incense is enough.
9)   Age does not affect the efficacy of incense.
10)  Habitual use of incense causes no harm.